Ready for your next vacation? Planning on visiting the beautiful sunshine state but don't know where to go? Well here we will help you to plan your vacation and enjoy with your whole family. Here we bring you the Top 5 Things to do on your Fort Lauderdale Vacation.
Fort Lauderdale is well known for its beautiful beaches, it's amazing weather, many cultural events and of course shopping. Oh and don't forget the Port Everglades come a little earlier, stay a little longer, and discover that this sunny destination offers thousands of opportunities to make every moment in Greater
Fort Lauderdale a departure. So get ready because sun and relaxation time awaits you! If you are planning to arrive to the Fort Lauderdale Hollywood International Airport and are looking to go to the port everglades to take a cruise they are just two miles apart which is amazingly convenient if you are looking to get a transportation to transfer you from point to point. There are many transportation companies in Fort Lauderdale that are anxiously waiting to assist you on your transportation needs during your vacation. One of many that we like to recommend is My Florida Shuttle Bus which really offers affordable transportation and meets your transportation requirements.
Also, if you are looking to first go to your hotel or city of destination before the cruise there are many exciting things to do and we have created a TOP 5 fun to do list for you:
5 Things to do on your Fort Lauderdale Vacation
1.Seminole Hard Rock Winterfest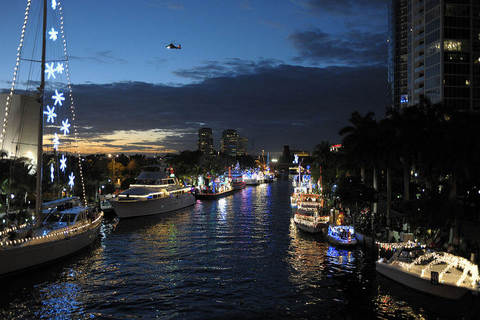 This winter season don't miss the Seminole Hard Rock Winterfest 2014 Getaway. The annual Winterfest in Fort Lauderdale, Florida produces the Seminole Hard Rock Winterfest Boat Parade which is tagged the "Greatest Show on H20". Other Winterfest activities include children's entertainment, hot food, drink, live music, free ice skating at Tsongas Arena a hay ride, a snowman building contest, and an art show of works by local artists.
2. Deerfield beach
One of the best family favorite beaches in Fort Lauderdale is Deerfield Beach. Build sand castles and bury one another in golden sand. The city's award-winning "Blue Wave" beach earned that designation from the Clean Beach Council, based on its excellent water quality, beach conditions, safety services, public information and habitat conservation policies.
3.Museum Of Discovery and Science
Visit the Museum of Discovery and Science. An amazing place for both you and your kids. Fun, interesting and worth your time! one of the largest museums of its kind in Fort Lauderdale, and has the most visitors of any museum in the state. The museum features its own AutoNation IMAX theater, and shows 3-D IMAX films in which viewers wear special glasses and headsets. The most popular aspects of the museum are the quantity and variety of Floridian animal species on display.
4. Las Olas Riverfront
Where to eat? Las Olas Riverfront is Fort Lauderdale's hottest place to eat, drink and be merry! If you're nautically inclined, feel free to pull up in your boat and dock for free!One of the best areas in Ft. Lauderdale to eat, drink, shop, and people watch. Really fun to wander down here at night because the palm trees are all lit up and it's such a pretty area.  Plus, there's always an attractive crowd
5.Uncle Bernie's Amusement Park
Go with the whole family to the Uncle Bernies Amusement Park, the place where the whole family can enjoy carnival rides all year round. This amusement park is part of Fort Lauderdale Swap Shop, advertised as the second largest tourist attraction and the world's largest indoor outdoor entertainment and bargain shopping attraction. Uncle Bernie's Amsuement Park has a collection of amusement rides and a giant video arcade. The world's largest Drive-In Movie Theatre with 14 screens is also located here.
We hope you have enjoyed our tips and ideas about your upcoming trip to Fort Lauderdale. Enjoy be safe and stay tuned for more travel tips and information.